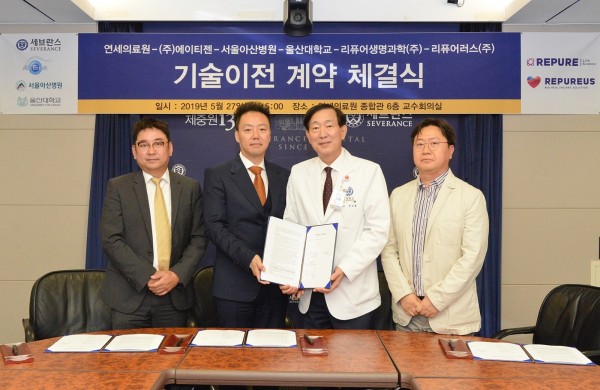 Yonsei University Medical Center transfers technology for developing metastatic cancer treatment to Repure Life Science and Refiners
Development of therapeutic agent to inhibit metastatic cancer
Patent application for Yonsei University Health System, Asan Medical Center, NKMAX, University of Ulsan
Yonsei Medical Center held a technology transfer signing ceremony to develop metastatic cancer treatment for patent technology jointly developed by Yonsei University Medical Center, Industry Foundation of Yonsei University, Asan Medical Center, NKMAX, and University of Ulsan Foundation for industry cooperation
The targeted technology transfer target has been jointly invented by Prof. Ho-Keun Yoon, Department of Biochemistry and Molecular Biology, Yonsei University College of Medicine, Professor Jae-Ho Cheong, Yonsei University College of Medicine, and Kyung-Chul Choi, College of Medicine, University of Ulsan. This is the result of a study using the developed antibody. Prof. Ho-Keun Yoon and Prof. Jae-ho Cheong are responsible for technology transfer. The final payment expected following the technology transfer is 20 billion won.
Research team previously revealed that the effects and mechanisms of the activation of the EPB41L5 gene on metastatic cancer (gastric cancer, lung cancer, breast cancer) and the use of antibodies of EPB41L5 in the study of EPB41L5 mediates TGF-β-induced metastasis of gastric cancer. It has been suggested that it can be used as a therapeutic and biomarker for metastatic cancer.
As a result, the expression of EPB41L5 is increased by the transforming growth factor (TGF-β), which is known to affect cancer growth and metastasis. EPB41L5 It has been shown that EPB41L5 promotes gastric cancer cell mobility and invasion through the epithelial to mesenchymal transition (ETM) process, which is the process of conversion from epithelial cells to mesenchymal stem cells.
Based on these findings, the researchers found in animal studies that administering antibodies that inhibit the function of EPB41L5 could inhibit cancer metastasis. The team succeeded in confirming that cancer metastasis was inhibited by injecting EPB41L5 monoclonal antibody into an animal model of cancer metastasis caused by EPB41L5 overexpression and TGF-β. The targets for this technology transfer are related to cancer metastasis inhibitors and related technologies.
REPURE Life Sciences and REPUREUS are building an AI-based anti-cancer drug R & D and healthcare platform that implements new drug development innovation strategies through technology exchanges with domestic and overseas hospitals, universities, research institutes and companies.
Based on the signing ceremony,Repure Life Science and Repureus will develop full-scale cancer metastasis, anti-cancer drugs such as gastric cancer and brain cancer, and develop cancer diagnostic kits as biomarkers.
Metastatic gastric cancer is classified as a cancer with a poor prognosis with a 5-year survival rate of less than 30% worldwide, and has a high incidence in East Asia including Korea. It is expected that the transfer of the technology could significantly improve the survival rate of patients suffering from malignant gastric cancer.
In the 6th-floor faculty meeting room at the Severance HospitalYoon Do-heum(President of Yonsei Health System), Park Eun-cheol(Director of Medical Research, Yonsei Health System), Professor Ho-Keun Yoon, Prof. Jae-Ho Cheong, Prof. Kyung Cheol Choi, Park Sang-woo(CEO of NKMAX) Hye-ja Lee(Head of strategic planning department), Yong Sang Kim(CEO of Repure Life Science) attended.
Professor Yoon Ho-geun and Jeong Jae-ho said, "We hope that technology transfer will contribute greatly to improving the treatment and survival of patients as a result that can be applied to the medical field."
CEO Yong-sang Kim said, We will keep continuing to further the transferred technology to develop anti-cancer drugs such as cancer metastasis, gastric cancer and brain cancer, and to protect the healthy lives of many patients who are suffering from difficulties
Dailymedi http://www.dailymedi.com/detail.php?number=843510&thread=22r02
후생신보 http://www.whosaeng.com/110334
조선비즈 http://biz.chosun.com/site/data/html_dir/2019/05/28/2019052801044.html
헬스조선 http://health.chosun.com/news/dailynews_view.jsp?mn_idx=308895
라포르시안 http://www.rapportian.com/news/articleView.html?idxno=117777
공유경제신문 http://cnews.seconomy.kr/view.php?ud=201905280947001769798818e98b_2
news1 http://news1.kr/articles/?3631855
메디컬투데이 http://www.mdtoday.co.kr/mdtoday/index.html?no=355780
MoneyS http://moneys.mt.co.kr/news/mwView.php?no=2019052809468095982
의사신문 http://www.doctorstimes.com/news/articleView.html?idxno=208075
메디팜헬스 http://www.medipharmhealth.co.kr/news/article.html?no=55052
이투데이 http://www.etoday.co.kr/news/section/newsview.php?idxno=1760279
e-의료정보 http://www.kmedinfo.co.kr/news/articleView.html?idxno=55529